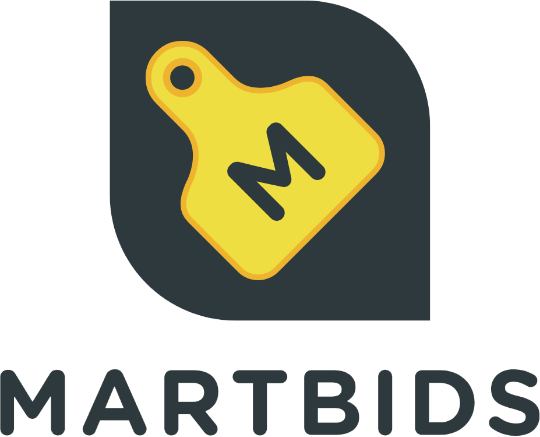 MartBids Terms of Service ("TOS")
1. Parties

1.1 The Services are provided by The Agricultural Trust t/a The Irish Farmers Journal and having its registered office at The Irish Farm Centre, Bluebell Road Dublin 12 ("MartBids", "us" or "we")] to you and/or your company ("Mart" or "you").

2. Acceptance

2.1 BY CLICKING THE "I ACCEPT" BUTTON, OR SIGNING THE COMMERCIAL TERMS AND/OR USING THE SERVICES, YOU AGREE TO BE BOUND BY THESE TOS. If you are signing up to use the Services on behalf of a company or other entity, you must have the authority to bind that company or other entity to these TOS. If you are not willing to be bound by these TOS, you should not use the Services.
3. Modification
3.1 These TOS may be updated and modified at any time in our sole discretion. Acceptance of updates and modifications will be confirmed by (i) continued use of any part of the Services ten (10) working days after the modified TOS have been posted to the Services or (ii) your indication of agreement to the updated terms by email or otherwise. In accepting this Agreement, you confirm that you have the authority to bind your company to these TOS.

4. The Services

4.1 MartBids has developed the App and related dashboard which it makes available to certain persons or entities via the internet for pre-sale advertising and displaying and viewing catalogues relating to sales and auctions and to allow online biding and associated services and to allow online viewing and bidding (the "Services").

4.2 MartBids shall, during the Term, provide the Services to you on and subject to the terms of this Agreement.

5. Mart Registration

5.1 In order to use the Services:
(a) Mart must subscribe to its Sales System's MartBids add-on, which may be subject to a fee charged by Sales System;
(b) Download and install the MartBids Software (such installation to be supported by Mart's Sales System under the terms of the add-on subscription); and
(c) Pay the set-up fee and yearly fee as described in the Commercial Terms as set out on the Scheule hereto.
(d) Mart shall ensure that it has installed livestream cameras with an agent approved of by MartBids and that they have adequate broadband width to allow for the services.
(e) Mart will ensure that the MartBids software can be downloaded onto their SalesSystem and that the Sales System will allow access to the Data and information as required and provided for in this Agreement
(f) Mart will have a separate laptop or computer installed on the ring rostrum to allow the clerk or auctioneer operate the Auction Controllor Program.
(g) Mart will at all times (on foot of reasoabale notice) allow MartBids or their agent remote access to the rostrum machine to install, repair, maiantain and or/ upgrade as required the program required to run the MartBids software.

5.2 The Services are reliant on access to the data from Mart's Sales System. Mart agrees to keep the contract with its Sales System provider in good standing and up to date with all fees and equipment and software requirements of Sales System provider. Mart shall ensure that at all times the Sales System is capable of running and operating the MartBids software

5.3 MartBids has no responsibility if the Services cannot be provided due to an issue with the Sales System. No refunds shall be provided by MartBids in the event the Services cannot be used due to an issue with the Sales System.

6. Farmer Registration

6.1 Farmers may apply to register with Mart through the App or Website. Marts may not contact Farmers direct except for transactional purposes, e.g. to complete bidding approval process after bidding permission has been sought by site/app users, to confirm content submitted for a pre-sale advertisement or to confirm with those Farmers selling animals in live sales at the Mart to establish that the Farmer is agreeable to sell the stock for the price achieved in the live sale when required by the Mart.

6.2 All contact undertaken by the Mart is entirely at the Marts responsibility and Mart must ensure that it does not carry out direct marketing activities. Marts shall be allowed contact the Farmer to check their bona fides as is per usual commercial practise and custom. MartBids reserves the right to suspend Marts access to the Services where it is using the App or dashboard to carry out direct marketing activities. Mart indemnifies MartBids for any contact with third parties through the App that breaches rules against direct marketing or data protection rules.

7. Pre-Sale Advertising

7.1 Farmers may place advertisements through the App relating to any upcoming auction or sale. Marts are responsible for reviewing and confirming advertisements prior to those advertisements becoming visible to other users of the App. For example, Marts may wish to ensure that no phone number, or animal ID tag is visible in the advertisement. In addition, Marts may wish to confirm with a Farmer that an animal will be brought to the relevant sale or auction. Marts must not approve advertisements that contain animal welfare issues.

7.2 Where advertisements are made available to other users without being subject to review by Mart, or where advertisments are approved where they should not have been approved, Mart provides a full indemnity to MartBids for the consequences of such approval. MartBids reserves the right to suspend Mart from access to the advertising feature and remove any advertising which breaches the MartBids content standards which shall be determined by MartBids in its sole discretion.

7.3 MartBids requests Farmers to submit accurate content but MartBids has no responsibility for the reliability or accuracy of any content provided by a Farmer.

7.4 Where a Farmer places an advertisement on the App, the Mart will be able to send transactional notifications to a Farmer through the App or may contact a Farmer by phone or email to verify an advertisement. Mart agrees not to use this facility to carry out marketing communications.

8. Catalogue

8.1 Upon entry to the Mart, a Farmer's stock cards for the lots that Farmer has entered to the sale are scanned and the data relating to the lots are automatically populated to the Mart system through Mart Information Requests. A select extract from this data is then transferred to MartBids to populate the catalogue in the App. The Catalogue Data is available to all users of the App no matter where they are located. The Catalogue Data does not contain the Personal Data of the Farmer.

8.2 Sales Data is only visible to registered users of the App for the duration of the sale, that are present at the sales premises (location of the App user is identified by geo-location software) and that have the App open to the Catalogue section of the App for the Mart.

8.3 Errors and inconsistencies may exist in Catalogue Data and Sales Data. Catalogue Data and Sales Data are provided as an information guide only and is not a representation, statement or warranty as to the characteristics of the lots listed. MartBids does not accept any responsibility for any errors or omissions in the Catalogue Data or Sales Data nor for the consequences of such errors or omissions.

9. Data

9.1 Data is as defined in Clause 11 belowwhich has been submitted to MartBids by the Mart or Mart Information Providers, is owned or licensed by and controlled by the Mart.

9.2 Mart hereby grants to MartBids a perpetual, irrevocable, royalty-free, fully paid, fully transferable, sublicensable, worldwide licence during the Term and after termination to permit MartBids to maintain, use, reproduce, modify, create derivative works of, distribute, display and publish anonymised and/or aggregated Data for MartBids' internal and external business purposes, for business intelligence, trend identification, report generation, diagnostics and to operate and support the App.

9.3 As a condition of the provision of the Services, Mart agrees that for the Term, it shall not provide Mart Data to any third party for the purposes of business intelligence or publication in any medium save where otherwise agreed in writing between the parties.

9.4 Farmer Data, which relates to data which a Farmer has submitted to the Mart, is owned and controlled by the Farmer. Farmers may modify, delete or remove Farmer Data, at any time.

9.5 In the event of any loss or damage to Mart Data or Farmer Data, Mart's sole and exclusive remedy shall be for MartBids to use reasonable commercial endeavours to restore the lost or damaged data from the latest back-up of such data maintained by MartBids. MartBids shall not be responsible for any loss, destruction, alteration or disclosure of data caused by any third party.

9.6 MartBids may use data generated through use of the App for its business purposes such as testing, optimisation, support, trend analysis and diagnostics. MartBids may also use aggregated statistics derived from data for its external business purposes such as in the preparation of livestock price information for publication. MartBids will never disclose or publish statistics relating to an individual.

9.7 Mart hereby grants to MartBids an exclusive, perpetual, irrevocable, royalty-free, fully paid, fully transferrable, worldwide license during the Term and after termination for the period that that records are required by law to be retained to permit MartBids to process Mart Data, Farmer Data and Sales Data.

10. As part of the Agreement the Sales at the Mart will be livestreamed.   MartBids will ensure that any livestream is kept in compliance with its data protection policy. Mart herby grants to  MartBids a perpetual irrevocable, royalty free, fully paid, fully transferable, sub-licensable, worldwide licence during the term and in the event of termination to permit MartBids to retain, use, reproduce, modify, trade derivative works off, the streaming, display and publish, anonymised and/or aggregated images, still or video images from the livestream for MartBids's internal and external business purposes .

11 Personal Data

11.1 With respect to the Mart Data, the parties record their intention that the Mart shall be the 'data controller' and MartBids shall be a 'data processor' as such terms are defined under EU data protection legislation including the GDPR, where applicable.

11.2 With respect to Farmer Data, the parties record their intention that Farmer shall be the 'data controller' and MartBids shall be a 'data processor' as such terms are defined under EU data protection legislation including the GDPR, where applicable.

11.3 Where MartBids processes personal data when performing its obligations under this Agreement:
MartBids will not transfer Personal Data outside the European Economic Area (EEA) unless specifically requested to do so by the data controller;
Mart hereby consents to MartBids' transfer of relevant Personal Data to MartBids' subcontractors, third party providers and relevant Farmers and agree that MartBids may lawfully use, process and transfer Mart's personal data in accordance with this Agreement on MartBids behalf;
Mart shall ensure that any relevant third parties have been informed of, and have given their consent to, such use, processing, and transfer contemplated under this Agreement and as required by all applicable data protection legislation, including the GDPR, where applicable and Mart must provide appropriate and sufficiently prominent notice to, and obtain the appropriate consent from any relevant third parties regarding the collection, use and disclosure of their personal data, including, at a minimum, through Mart privacy policies.
Data processed outside the App (e.g. where Mart contact MartBids by phone or email) may be transferred outside the EEA and in contacting MartBids outside the App Mart agree to this transfer. Where Mart does do not wish to transfer Personal Data outside the EEA, Mart must not include Personal Data in communications to MartBids made outside the App.

12 Interpretation

12.1 The definitions and rules of interpretation in this clause apply in this Agreement.

App: means the application provided by MartBids to you under this Agreement via www.martbids.ie or Apple App Store or Google App Store and includes without limitation, access to the related tools and Documentation, Software and any fixes, updates and upgrades provided as more particularly described in the Documentation.

Data: means all or any part of Farmer Data and/or Catalouge Data and/or Sales Data

Documentation: the documents made available to you by MartBids online via www.martbids.ie or such other web address notified by MartBids to you from time to time which sets out a description of the Services and the user instructions for the Services.

Farmer: Sellers, purchasers or potential sellers and purchasers through the Mart.

Farmer Data: the data input to the Services by Farmers.

Catalogue Data: The data relating to lots provided by the Mart Information Provider, a Farmer, the Mart or MartBids on behalf of the Mart through the App.

Mart: the auctioneer at the sales premises where livestock or machinery is bought or sold.

Mart Data: the data provided to the Services by the Mart Information Providers, the Mart, MartBids (at the Mart's request) or Farmer, excluding Farmer Data.

Mart Information Provider: a third party such as the Department of Agriculture, Bord Bia, Irish Cattle Breeders Federation that provides information to the Mart through the Sales System.

Mart Information Request: each request for information sent by the Mart to Mart Information Providers in accordance with this Agreement.

Personal Data: means any information relating to an identified or identifiable natural person ('data subject'); an identifiable natural person is one who can be identified, directly or indirectly, in particular by reference to an identifier such as a name, an identification number, location data, an online identifier or to one or more factors specific to the physical, physiological, genetic, mental, economic, cultural or social identity of that natural person.

Sales Data: Catalogue Data plus the sale prices for each lot.

Sales System: The Mart's sales software.

Software: the online software applications provided by MartBids as part of the Services.

Term: has the meaning given in the Commercial Terms.
SCHEDULE 1
Commercial Terms
As may be amended from time to time by MartBids